A full-scale circuit was born in Kanto
The Suzuka Circuit was born in 1962 as Japan's first full-scale circuit. Fuji Speedway opened in 1966. The Funabashi circuit opened in 1965, a little earlier than the Fuji Speedway, and became the first full-scale circuit in the Kanto region.
Let's take a look at the process leading up to the opening of the Funabashi circuit. Funabashi Racecourse opens in August 1950 as a nearby facility. In October of the same year, the Funabashi Auto Race Track for dirt tracks also opened in the infield of the racetrack. This is the first auto race track in Japan and is called "the birthplace of auto race".
In 1952, a reclaimed land on the Funabashi coast was mined to a depth of about 1000 m, and natural gas and hot springs gushed out. Using this, the Funabashi Health Center will open in 1955. Funabashi Health Center seems to be on a different scale from modern health lands, hot spring resorts, and leisure lands.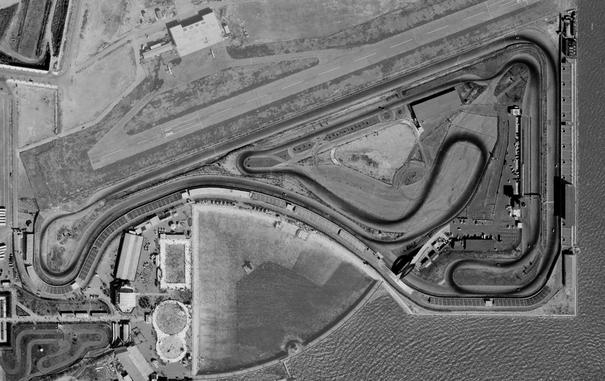 In addition to various hot spring facilities, bowling field, table tennis field, game center, pool, accommodation facility, museum, roller skating field, ice skating field, amusement park, baseball field, tennis court, artificial turf ski field, artificial beach, large theater And so on.
It may not be surprising so far, but for example, in the big theater, stars such as Hibari Misora, The Tigers, Harumi Miyako, Keiko Fuji (= Hikaru Utada's mother), Hiroshi Itsuki, Candies appeared. ing. There was also a public recording of "8 o'clock! All-Member Assembly".
In addition, there were golf courses, water skis, sightseeing boats, sightseeing flights, etc., and there was also an airfield dedicated to sightseeing flights (= Funabashi Airfield). And the circuit (= Funabashi Circuit) is also one of the facilities of Funabashi Health Center. Some facilities, such as the circuit, were short-lived, so I didn't own all the facilities at the same time, but it was a scale that I can't imagine now. Funabashi Health Center …… It should be terrifying.
1961 aerial photograph. Funabashi Auto at Funabashi Racecourse. Funabashi Health Center is on the west side. The Funabashi Airfield for scenic flights has also been completed (posted by processing the aerial photo viewing service of the Geographical Survey Institute).
Funabashi Circuit is one of the various leisure facilities developed by Funabashi Health Center in its history. Asked former F1 driver Piero Taruffi to design the course ... Who is Piero Taruffi? Alpha made his F1 debut in 1950 with his Romeo. He is present at Ferrari and Mercedes and has won one F1 victory. He has a deep relationship with Japan and advised on management as an honorary general director at the 2nd Japan Grand Prix held at the Suzuka Circuit in 1964. He is said to have taught driving techniques to Japanese racers such as Tetsu Ikuzawa.
Three years after the completion of the Suzuka Circuit, the Funabashi Circuit, the first full-scale circuit in the Kanto region, opened in July 1965, the year after the Tokyo Olympics.
1963 aerial photograph. Landfill on the south side has begun (posted by processing the aerial photo viewing service of the Geographical Survey Institute) 1966 aerial photograph. The Funabashi circuit is completed. Funabashi Airfield was moved to the east side of the circuit (posted by processing the aerial photo viewing service of the Geographical Survey Institute)