UPDATE Microsoft is working to make its new web browser, Edge, safe for users to use.
Microsoft reveals upcoming editions for Windows 10
The Internet is often perceived as a dangerous place by malicious emails, websites, hackers, phishing, etc. that pose a threat to your personal information. Among them, "Internet Explorer" has often been pointed out as being vulnerable to hackers due to numerous security holes. That's why Microsoft is trying to put more emphasis on security with its new browser, Edge, in a blog post by the Microsoft Edge Team dated May 11th.
So how is Edge trying to become a more secure and secure browser? The Microsoft Edge Team shows the following techniques.
One of the ways cybercriminals use to steal passwords is to direct users to fake websites. It looks like a legitimate password-protected site that users usually use, but it's actually a malicious site created to get the user's login information. To combat these phishing scams, Microsoft Edge eliminates the need to enter raw passwords and instead employs "Microsoft Passport" technology as a single sign-in service to authenticate users.
"Surface 3" Review--New MS Tablet with Full Version "Windows 8"
Edge uses a new rendering engine called "Microsoft EdgeHTML". The new engine is based on more modern web standards, including those available to web developers to enhance their site's defenses against cyberattacks. Edge will also take advantage of Microsoft's "SmartScreen" feature introduced in "Internet Explorer 8". SmartScreen checks the "reputation" of websites and software downloads and attempts to verify that it's a legitimate site.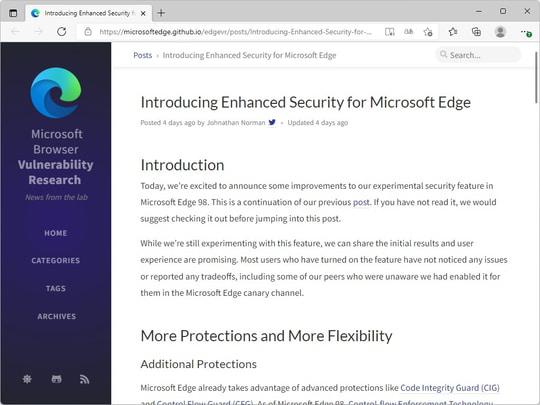 Internet Explorer has been vulnerable to attacks that exploit vulnerabilities in certain extensions, such as ActiveX and VBScript. Edge eliminates these vulnerabilities by discontinuing support for such extensions. Instead, Microsoft is using HTML5 in Edge to work on an extension-based model that takes advantage of HTML and JavaScript.
As Microsoft incorporated Internet Explorer as part of "Windows," the browser was at risk of a security hole in the operating system. But Microsoft Edge is a standalone app that can be updated more easily than ever before. Edge also runs in "sandbox" mode. This means that Edge runs in a dedicated, isolated and protected space. This makes it more difficult than ever for malware to infect other programs running on the same computer, for example. Edge also opens individual web pages in their own sandbox, or "app container."
"Microsoft Edge has rebooted our browser extension model, not just making it the default, but always allowing the browser's content process to run inside the app container," the Edge team said. There is. "Therefore, every internet page that Microsoft Edge visits is rendered inside the app container. This is Windows' newest and most secure client-side app sandbox."
Finally, Microsoft is aware that finding security holes requires external help. For this reason, the company plans to implement the "Windows 10 Technical Preview Browser Bug Bounty" program. In this program, anyone who finds a particular type of bug in the new browser Edge can report it to Microsoft and get a prize in return.
This article was edited by Asahi Interactive for Japan from an article from overseas CBS Interactive.