Most of the competitions at the "Tokyo 2020 Olympics", which will start on July 23, were held without spectators, and the means of watching the games was either TV broadcasting or online distribution. However, you need to be careful when using live streaming on the Internet.
Trend Micro, which handles anti-virus software, reported on the 19th that it found a suspicious website that was a relay site for the Tokyo Olympics. Several malicious web pages were found on the "browser notification spam" site that allowed users to notify browsers and displayed malicious advertisements.
A suspicious site that acts as an Olympic broadcast site.Currently, these pages are no longer displayed in Google Search
Trend Micro said, "If you watch the Olympics via the Internet, you should only use official websites and affiliated sites. Unknown streaming sites, especially those that emphasize" video sites with no access restrictions ", are cyber criminals. It is likely that it is a trap that has been crafted by. "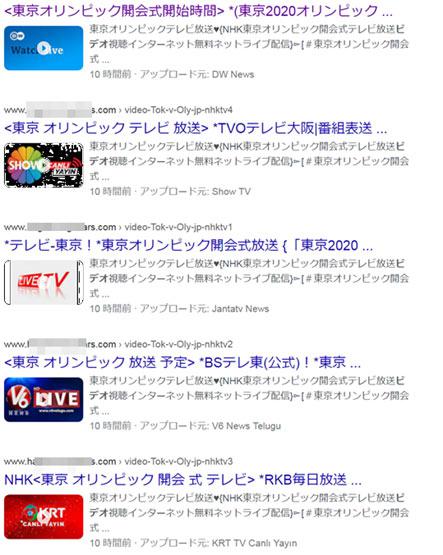 The official video distribution of the Tokyo 2020 Olympics includes NHK's "NHK +", the commercial broadcaster's official video site "gorin.jp", and the commercial broadcaster's overlooked distribution service "TVer". gorin.jp is an Olympic competition video distribution site established by five private broadcasting stations when the 2008 Beijing Olympics were held, and TVer basically distributes videos of gorin.jp.
Both have websites for PCs and apps for smartphones. However, the contents of the two services, such as NHK and commercial broadcasting, are different, such as the competitions to be distributed.
For example, since NHK has the broadcasting rights for the "Opening Ceremony" that starts at 8 pm on the 23rd, live distribution on the Internet is also available only on NHK +. NHK will broadcast live on E-Tele from 7:56 pm, and will start live broadcasting on NHK + almost at the same time.
NHK + distribution schedule (mobile app screen) There is no live distribution of the opening ceremony on "gorin.jp"
NHK + normally displays a message confirming the reception contract on the screen, and it does not disappear unless the user registers the ID, but the program of the Tokyo 2020 Olympics does not display the message as an exception. With the Olympics as an opportunity, we hope that many people will experience the "convenience of getting the information they need anytime, anywhere" and increase the number of registrants.
Related article
Related Links
Copyright © ITmedia, Inc. All Rights Reserved.