RS virus infections that are rampant nationwide, including this prefecture.Many patients are infectious respiratory infections occupied by children under one year old, and have the same symptoms as colds, such as runny nose, fever, and fever for several days.On the other hand, it is often recovered, but it may become severe, such as difficulty in breathing due to bronchitis.Maybe it's becoming more severe.We asked Dr. Hiroshi Mishima (75), a pediatric care advisor to Ohara Sogo Hospital (Fukushima City), about the points of the judgment and the characteristics of the symptoms.
 -What kind of disease is RS virus infection?"It is a disease that almost 100 % of the child is infected by the age of two, and has general cold symptoms such as runny nose, fever, and fever. Many recovered in a few days, but it is terrible and difficult to breathe.In some cases, there is no need to be hospitalized. There is no silver bullet, and treatments with symptomatic treatment are prescribed for drugs that improve the cuts and the bronchi.There are many pediatrics that do not examine the insurance if you are under the age of the age and do not have a silver bullet, so many pediatrics do not examine children over 1 year old.It may be
 -How do the symptoms worsen?"If the cough gets worse, even if you remove milk or moisture, you will vomit, and you will not be able to sleep. If you have a lack of sleep, you lose your physical strength, lose your appetite and become dehydrated.Bad cuts and breathing becomes difficult. "
 -What is a guide to seeing a hospital with deterioration of symptoms?"Even if there is a cough, there is no problem if you can spend the rhythm that is the same as usual. In addition to the stronger respiratory symptoms such as cough, you can not sleep, eat, you can not remove water.It is necessary to be careful if the whole body condition is worsening, such as not. Children with basic diseases are more likely to become severe. Honestly, if you are sick, you will be directly linked to bad mood and energy.If you feel "it's different" or "It's worse than yesterday", please consult your doctor. "
 ―A is not the only child who infects the RS virus."In general, even if adults are infected, they often recover naturally only with symptoms such as a runny nose or cough, but if the elderly with underlying diseases are infected, they may cause pneumonia.It is important for households where people live together to prevent infection to the elderly. "
 Several infected people in the prefecture 5 times from the previous year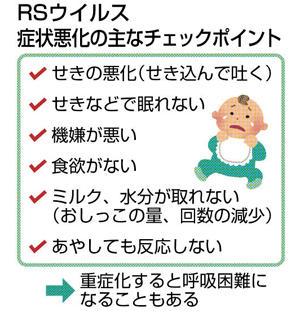 According to the prefectural infection information center, the number of RS virus infected people in the prefecture was confirmed by 1609 from January to July 25 this year.It is about five times compared to the same period of the previous year.The number of infected people is reported from 50 pediatrics fixed points, so it is likely that there are even more actual infected people.
 In mid -May, it became popular on Chu -dori from mid -May, and in late July it was popular throughout the prefecture.Of the 1609 infected people, 0 and 1 year old are about half, but the percentage of 0 years old is decreasing compared to the usual year, and the number of infected people is increasing.
 It is rich in the view that the number of children who have not been able to achieve sufficient immunity has increased last year due to the thorough measures against new colonavirus, and the number of children who could not get sufficient immunity last year.