V-cube and Microsoft Japan announced on February 2 that they have linked their cloud services. "V-CUBE", which provides video communication functions such as web conferencing, and "Office 365", an office software, are linked. You can now use it to book a web conference from the Office 365 calendar. The target for the number of users who use both services is 100,000 in the first year and 1 million in the next three years.
As a basis for collaboration, V-cube has migrated the infrastructure of V-CUBE from "Amazon Web Services (AWS)" to "Microsoft Azure". On top of this, "Azure Active Directory (Azure AD)" was used as the authentication platform. As a result, users who have subscribed to both V-CUBE and Office 365 services can now use V-CUBE simply by logging in to Office 365.
Regarding the collaboration, Mr. Yasuyuki Higuchi, Chairman and Representative Executive Officer of Microsoft Japan, explains, "Japan is low in productivity, so it is necessary to change the work style." By collaborating with V-CUBE, which has a proven track record in the field of video communication, productivity will increase. Although there are some parts that compete with V-CUBE, he explained his stance, "If it leads to user convenience, we will openly collaborate with all companies."
Meanwhile, Naoaki Mashita, President and CEO of V-cube, explains the background of the collaboration, saying, "There are many people who want the function of linking with Office 365." "There are many Office 365 users. It seems that the majority of V-CUBE users use Office 365," Mashita said.
Mr. Naoaki Mashita (left), President and CEO of V-cube, and Mr. Yasuyuki Higuchi, Representative Executive Officer and Chairman of Microsoft Japan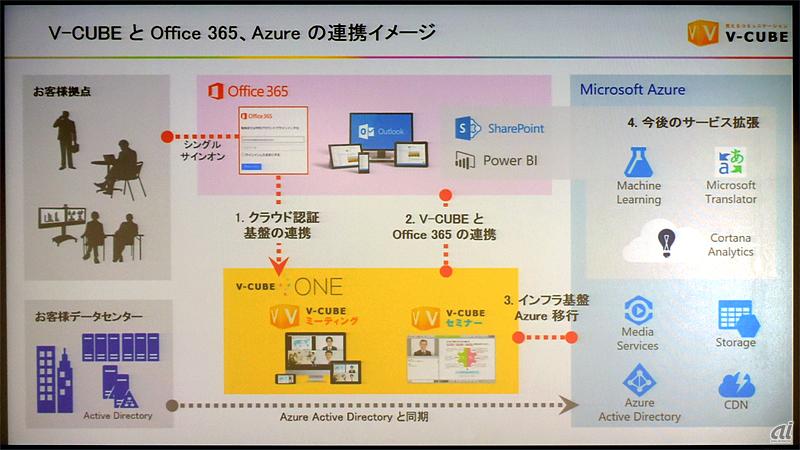 Register and schedule web conferences in Outlook
V-CUBE is a SaaS type video communication system. The main product "V-CUBE Meeting" is a web conferencing service that can be used on PCs and smart devices that connect a webcam and microphone. "V-CUBE Seminar" is a service that allows you to hold seminars for multiple students, and you can give lectures while displaying whiteboards and presentation materials on the students' web browsers.
As of February, there are two major linkage functions available (Fig.). One is single sign-on (SSO) with Office 365 using Azure AD, and the other is application integration. Two applications, V-CUBE Meeting and V-CUBE Seminar, work with Office 365's Outlook calendar feature. For example, you can book a web conference from Outlook, or schedule from V-CUBE to your Outlook calendar. In addition, we have prepared an add-in that works with V-CUBE meetings for the client software Outlook.
Figure: Image of cooperation between V-CUBE and Office 365 / Azure
TechRepublic Japan Related Articles: Hybrid Cloud Roundtable (1) Thorough discussion of the destination of corporate IT (2) Discussion of enterprise x AWS from various perspectives (3) What will SDN and Docker change (4) Understanding the architecture It is necessary to keep (5) The skills required of the IT department are changing
Users who have subscribed to both V-CUBE and Office 365 services can use the linkage function without paying an additional license. In addition, as a measure for Office 365 sales partners, V-CUBE has prepared a dedicated license plan specializing in set sales with Office 365.
As a future development, we plan to make V-CUBE usable even in a private cloud environment built using Azure IaaS in the near future in the near future. After that, it will be linked with other Office 365 services such as "SharePoint" and "Power BI". We are also considering deploying it in combination with the translation "Microsoft Translator" and the big data analysis "Cortana Analytics".