Thursday, January 20, 2022 -Monday, February 28, 2022 BOOK OBSCURA
The photo exhibition "Stuttgart" by photographer Niji Kasai will be held at Book Obscura.The exhibition is from Thursday, January 20, 2022 to February 28, 2022 (Monday).This exhibition will be exhibited in the form of an installation of works that are carefully selected from the publication of "STUTTGART" (BOOKSHOP M), which will be the latest collection of works by Mr. Niji Kasai, in the form of an installation format.Express the view on the gallery wall.
The work collection "STUTTGART" is a Stuttgart (international city in southwestern Germany), where Mr. Kasai spent the age of 10 to 18, before the new colonovirus infections covered the world (2019.It consists of 135 photos taken by his mother, Hisako, when he visited his family from July 29 to August 9, 2010).It will be announced at the world's largest photo fair held in November 2021, and will be released in Japan on January 25, 2022.In this exhibition, pre -release of the collection of works is also performed.
In addition, a talk event will be held online (ZOOM) on January 22 (Sat) and February 6 (Sun) to commemorate the publication.Click here for details & participation application.
©笠井爾示
Ni Kasai Explanation Photo Exhibition "STUTTGART" Service: January 20, 2022 (Thursday) to February 28, 2022 (Monday): BOOK OBSCURA Address: 4-21-5 in Mitaka, Mitaka, Tokyo, Tokyo.103 Opening hours: 12: 00-19: 00 Regular holiday: Tuesday and Wednesday, there is a risk that the exhibition period will change to declare emergency situation and prevent the new colon virus infection.In that case, we will inform you on the website and various SNS.
Facebook: https: // www.facebook.Com/BOOKOBSCURATWITTER: https: // Twitter.Com/BOOKOBSCURAINSTAGRAM: https: // www.Instagram.Com/BOOKOBSCURA/
Exhibition Cooperation KATT INC / Match and Company Co., LTD./ Yosuke Fujiki GH GH., LTD.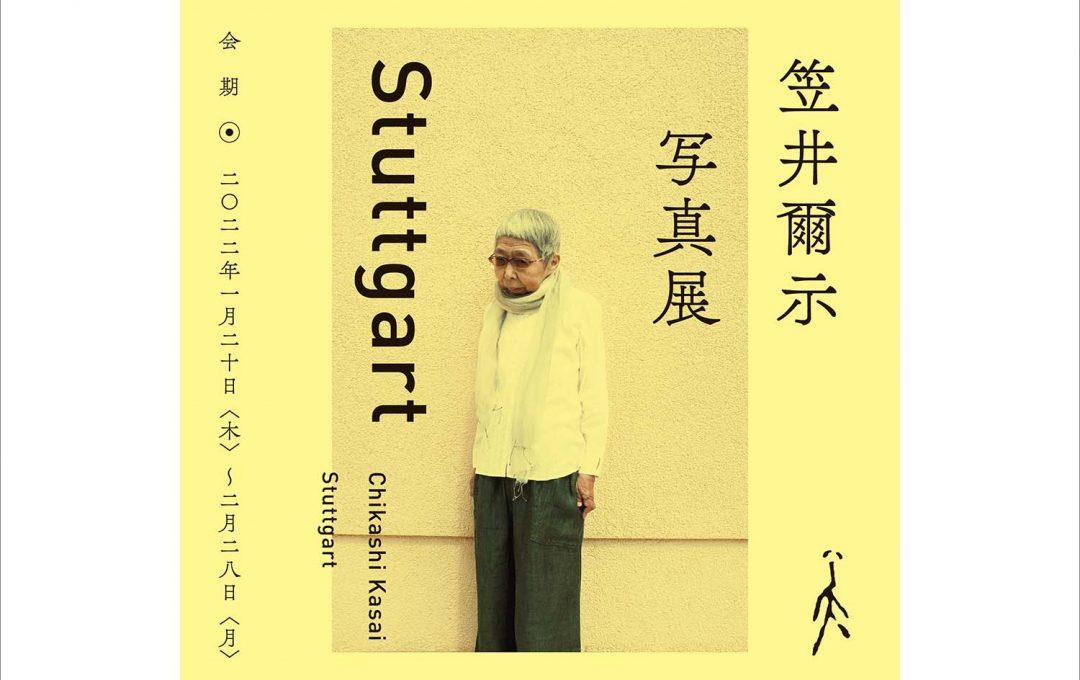 "STUTTGART" Publication commemorative Special Talk Event
VOL.1 What is a "photo book"?I hear the meaning of creating a photo book and the meaning of creating a work with the writer, Mr. Kasai, and the book -built town mouth.Date: January 22, 2022 (Sat) 19:30 -Appearance: Neki Kasai (photographer), town mouth (bookstore), Yui Kurosaki (Book Obscura)
VOL.2 To shoot "Hisako -san".Kazue Ohira, who contributed to her photo book, is a guest, and unravels her mother, Hisako Kasai and Kasai.Date: Sunday, February 6, 2022 19: 30 -Appearance: Kasai (Photographer), Kazue Taihei (Literature), Yui Kurosaki (BOOK OBSCURA)
Participation fee: ¥ 1200 / Each * 1 weekly archive distribution location: ZOOM * Please check here for details & participation application.
STUTTGART Tokyo's lover Tokyo Diary Nana Kawakami's photo book
Related article link (external site)
Aimi Usamaru / Hiroshi Shiobara "Skills" Photo Exhibition "Furuhata Photo Studio FPL THE BEST"Plants "