iOS 13's "Safari" doesn't seem to have any major updates on the outside, but it's actually adding a lot of new features. The heavier the person, the better the daily usability. Introducing new features in Safari.
"Start page" that proposes Web pages that are likely to be used
When you open a new tab, the "Start Page" now includes "Favorites", "Frequently Visited Sites", and "Suggestions from Siri". This includes browsing history, links received in messages from others, pages open on other devices, and more. When a user opens Safari, "pages that are likely to be used" are suggested.
Quickly set display format customization from the menu
There have been display customization functions such as reader display and enlargement / reduction of characters for a long time, but the menu has been improved so that it can be used more quickly.
How to fix display settings for each website
If you have a site that you always read in the reader view or a site that you want to use in the PC view, you can fix the settings for each site in "Website settings".
You can also customize your privacy settings for each website. If you know the safety of your frequently used site, you can set it to "Allow" to save the trouble of displaying a pop-up every time you visit.
Convert web pages to PDF or web archive and share
An option to select PDF or Web archive format (*) has been added to the "Share" function used when you want to send and save a web page.
* The Web archive format is a package of HTML and images that make up the page. Open in Safari.
Capture and save a long page from top to bottom with one sheet
If you convert to PDF by the above method, the pages are automatically separated and become a multi-page file. "Markup" is convenient when you want to fit from top to bottom in one sheet. Since it can also be written, it is ideal for checking the proofreading of websites.
Instantly find the tab you want to see from the open tabs
Safari's search window (address bar) allows you to search not only normal web searches but also "bookmarks and history" and strings in pages. In addition, a new "Switch to Tab" has been added. However, since it looks for candidates by URL instead of site name or page title, it can not be used unless you know the domain name.
Download manager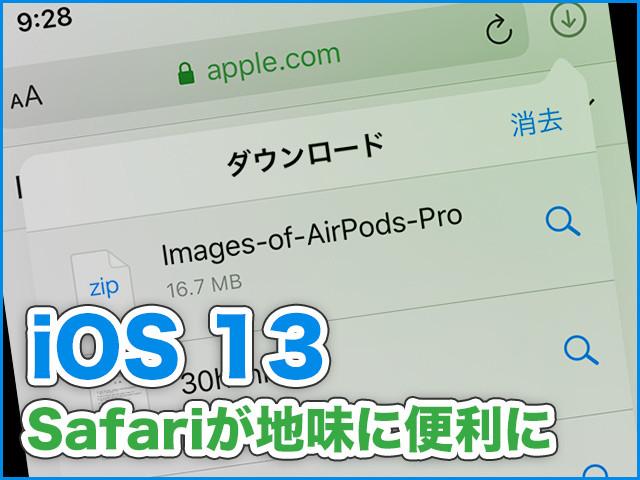 You can now easily download and save materials / materials distributed on web pages and files sent by file transfer services. The history is managed collectively with "Download Manager", and the save destination is iCloud Drive, so you can use it seamlessly on other devices.
The "File" app supports ZIP format compression / decompression. If you downloaded the ZIP format, you can unzip it with just a tap.